A strong pre-school experience is an important foundation for joyful, safe, self-confident ongoing education.Students from our preschool are prepared for their upcoming school career. In addition to working on traditional classic projects such as seasons, health and space, our main focus is to educate our students to act independently. The weekly class council, in which the students practice communicating and solving their concerns independently, is an integral part of our preschool. At regular "Klarschiff-Stunden" our students learn to keep their own classroom clean at an early age and thus take responsibility for their surroundings.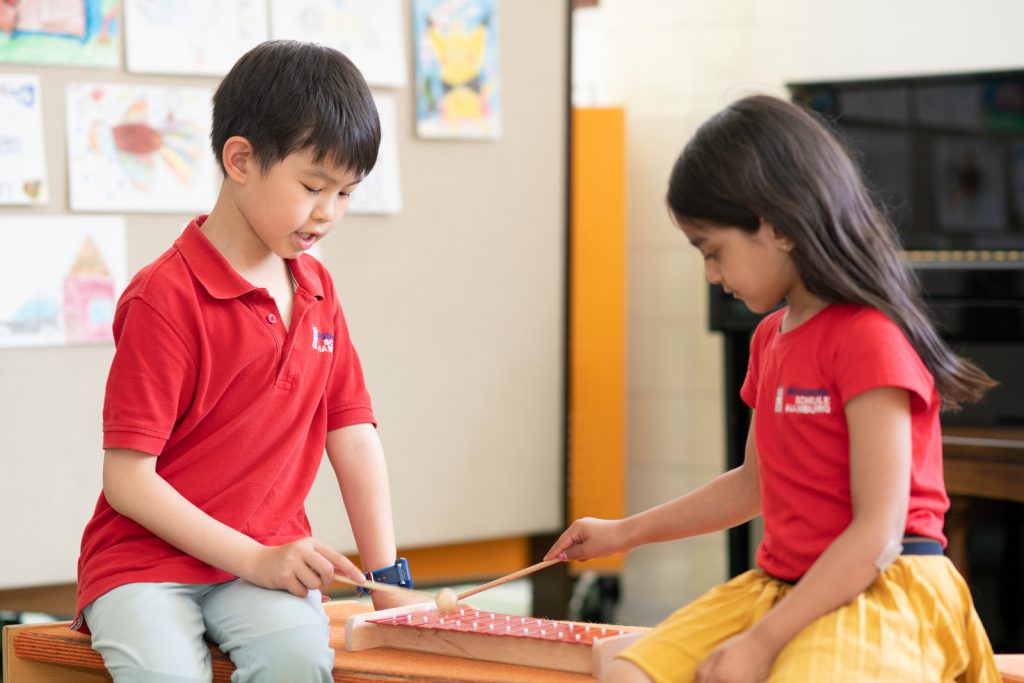 As an international school, we prepare our students for the global world. Child-friendly English and Chinese lessons are part of preschool from the start. Our students also get to know other cultures through our culturally diverse student body.
Would you like to register your child in our preschool, or do you have any questions? Further information can be found here: Link to registration
As a truly international school, we have anchored various projects in the student schedule, such as the culture week and English-language theater lessons. English and Chinese are taught at MSH by native speakers, as well as excellently trained language teachers. In this way, students study in an international environment and are actively helping to shape it.
Our pupils learn how to behave in our primary school. In the class council and during the coursework, they take responsibility for themselves, their environment and their needs at an early age. In the monthly school group, the students practice speaking in front of the entire school community and presenting projects. This learning is supported early on by using digital media such as laptops and interactive whiteboards. Our students learn to cope with the digital world and are well prepared for the future.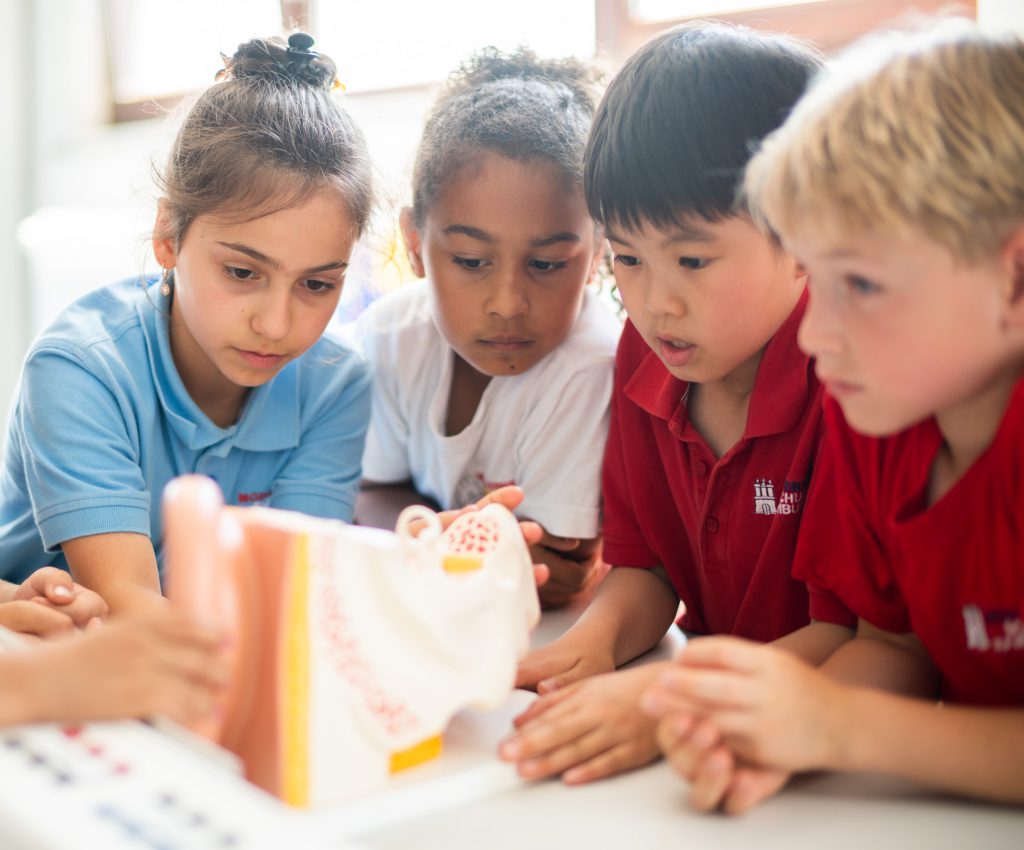 As a school in the heart of Hamburg, our students have swimming and sailing lessons. Field hockey also has a big place in our daily physical education. This way, our students get to know the typical sports in Hamburg on a regular basis.
Would you like to register your child in our Primary School, or do you have any questions? Further information can be found here: Link to registration
High School, Secondary School
We are an international school. One way we prepare your child for the global world is by teaching English and Chinese right from the start. It is no problem to join the 5th grade of our high school. Experience shows that your child can easily make up for any missing language skills with the help of our teachers during regular lessons. For school transfer students who want to attend our grammar school from the 6th grade, we offer an intensive Chinese course that individually introduces your child to the level of learning at the respective class level. Additionally there is the possibility to also learn Spanish from the 10th grade.
So that our students can experience languages and culture, there is an exchange every year with our partner schools in Lyndon, Vermont, USA (8th grade) and Xi'an, China (10th grade).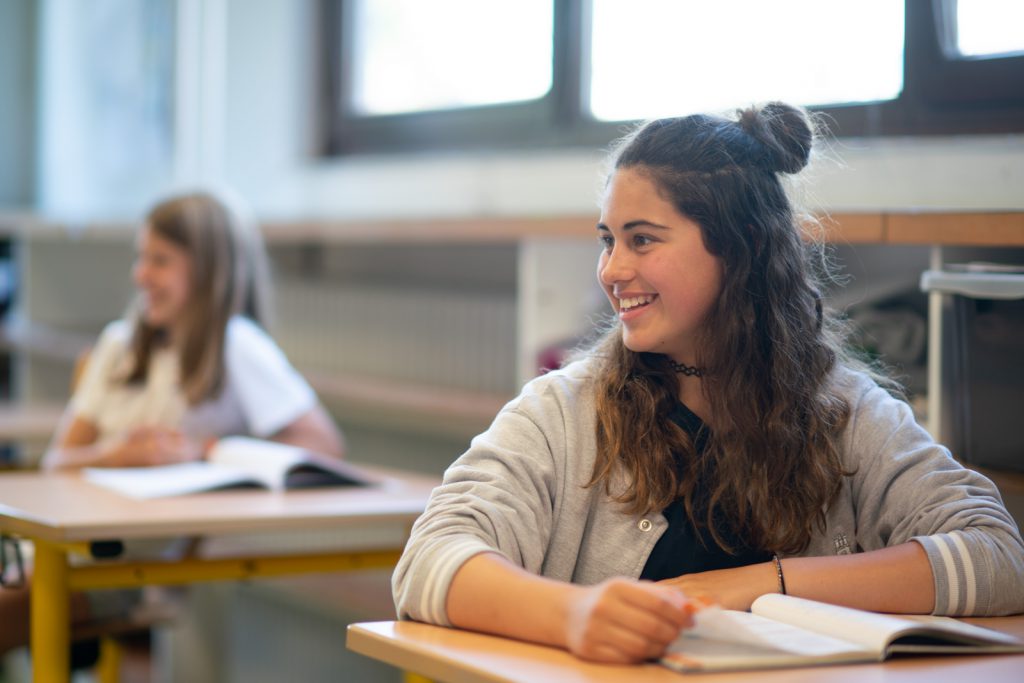 Our students live in host families and get to experience the typical and everyday life in the USA and China with their own eyes.
We also focus on learning digital skills. Our students not only acquire them, but they apply them every day. For them, handling computers and tablets is a matter of course. At MSH, our students develop into independent people. Through class councils and course work, they learn to take responsibility for themselves, their surroundings, and to communicate with each other and find solutions. As a high school in Hamburg, our sporting focus is on hockey, swimming and sailing. Through 8th grade there is a PE lesson every day.
Students can acquire all degrees recognized in Hamburg up to their Abitur (the German University entrance requirement). We carefully prepare our students for the exams. Our preparations include:
Learning in small groups
Seminar based subject learning
Schedule optimization before exams
Preparatory lessons with external coaches
Differentiated, exam-relevant exercise material
Exam simulations for each student
Remedial classes and individual support
Digital learning systems for the students (e.g. Bettermarks for mathematics)
The exams for the first general school exit certificate (ESA) take place in the 2nd half of the 9th grade. The subjects German, mathematics and English are examined in writing. This is followed by oral exams in the subjects German, mathematics, biology, and two optional subjects (history / geography, chemistry / physics).
The middle level school exit exams (MSA) take place at the end of the 10th grade. The written part includes German, mathematics, English and an elective (history / biology). Oral exams include German, math, English, biology and two electives (history / geography, chemistry / physics).
At the end of year 12, students sit for exams in German, Mathematics, English and History in writing, two of which are at an advanced level. The subsequent oral exams include four additional subjects: Art, Geography, Biology, and Chinese or Spanish.
Would you like to register your child in our High School, or do you have any questions? Further information can be found here:
We are an all-day school that pays attention to the balance between class time and the possibility for relaxation. That is why we offer movement, music and art in the mornings. Our all-day school includes daily physical education up to the 8th grade. In addition there are regular learning times for applying, practicing and deepening learning content. In addition to music lessons, all students can participate in our choirs. The common lunch period shared with class-mates strengthens the sense of community and well-being of our students.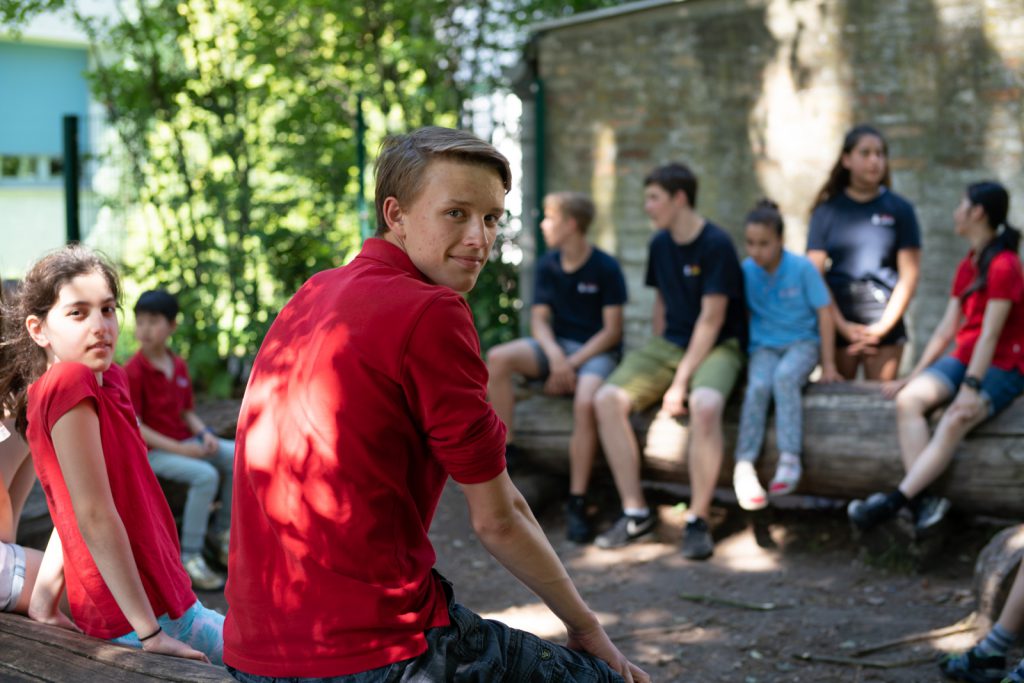 Classes in the all-day primary school take place Monday to Thursday from 8 a.m. to 3 p.m. and Fridays from 8 a.m. to 1 p.m. In the high school, classes run from Monday to Wednesday from 8:00 a.m. to 3:00 p.m. and Thursday to Friday from 8:00 a.m. to 2:00 p.m. Afterwards all students can be looked after until 4 p.m. if needed. As parents, you decide whether you want to take advantage of the after-school care from 4 p.m. to 6 p.m.
As part of the all-day school, our day care center can be visited free of charge until 4:00 p.m. If you would like your child to be looked after longer than 4:00 p.m., you can book follow-up care until 6:00 p.m. As parents, you can decide flexibly on which days and how many hours you want to use the after-school care. During school, the day care center is open until 6:00 p.m. and during the holidays from 8:00 a.m. to 4:00 p.m.
All students have the opportunity to play freely in our after-school care center or to take advantage of our diverse range of courses. Several exciting and varied courses take place every day, which are carried out by specialized and committed course leaders.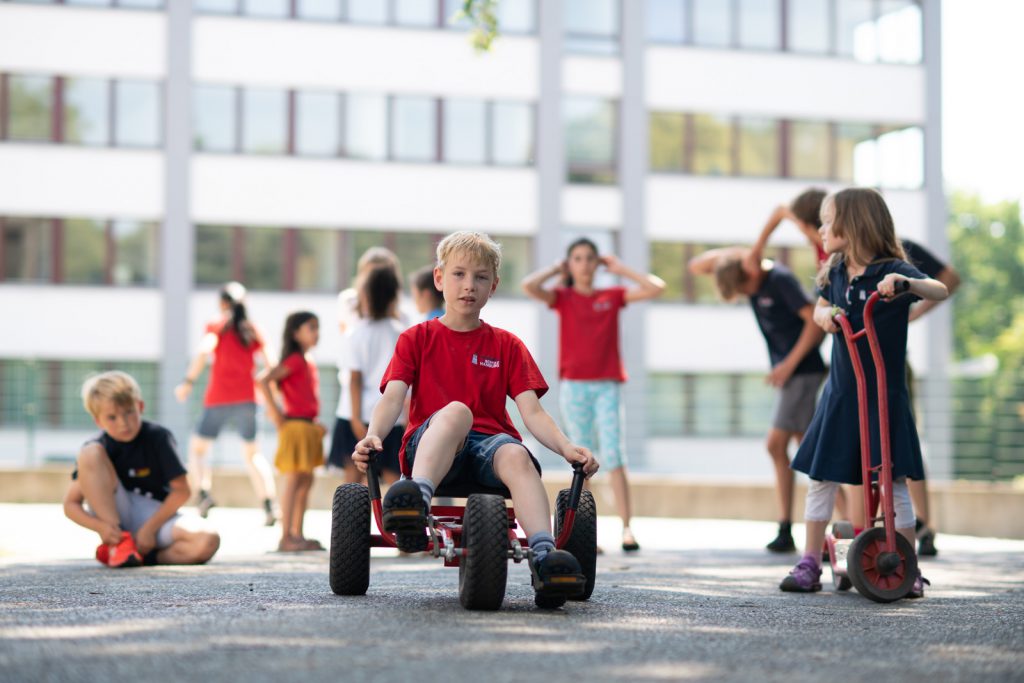 Here you can find some examples of our varied after-school courses:
• Sing & Dance
• Clever Clogs – English crafting club
• Goldsmiths
• Recorder
• Piano
• Yoga
• Hockey
We have owned our school building since 2017. This offers our school community many advantages. Because we own the building, we will be able to maintain our location well into the future and can design the school building ourselves.